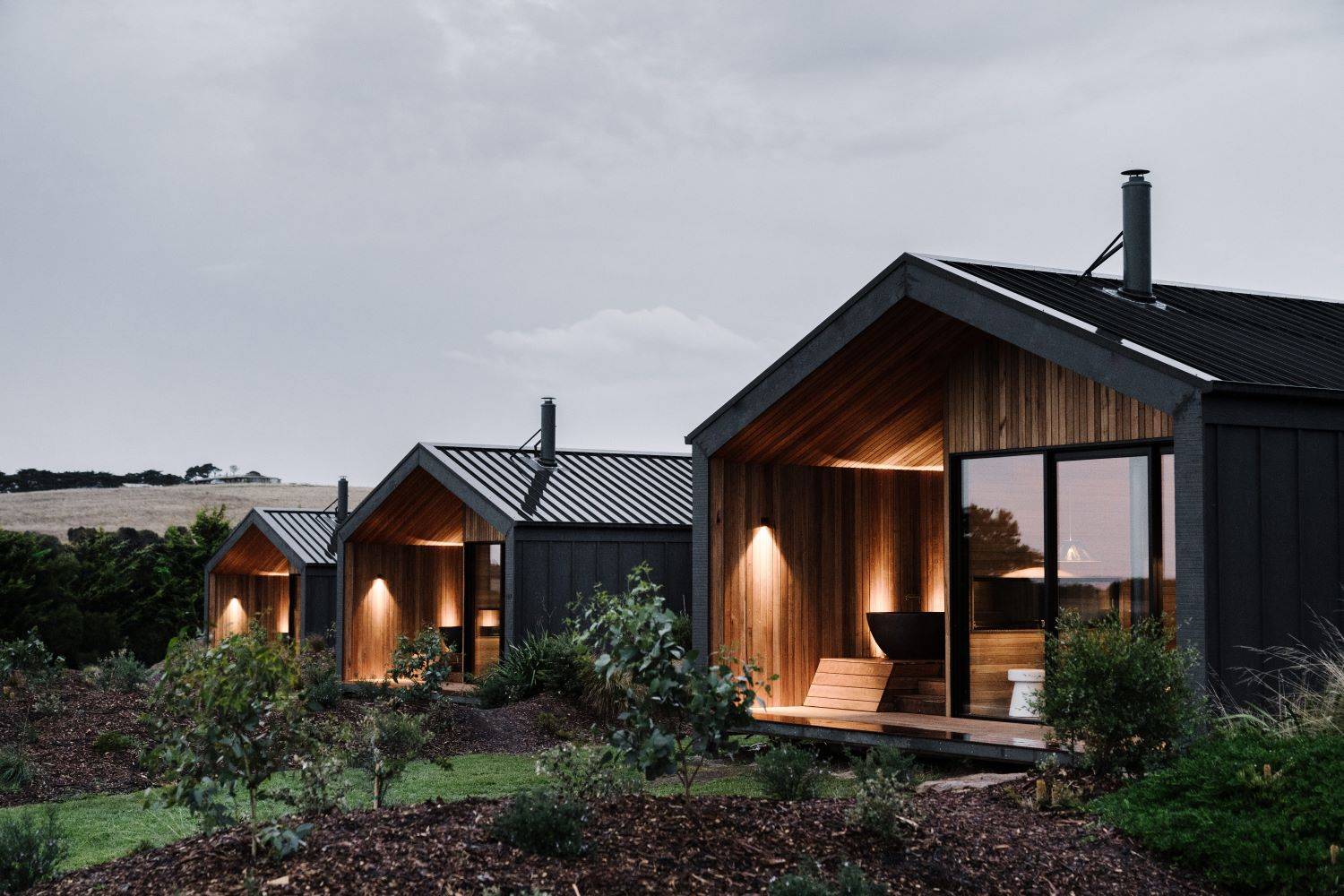 Author Amy Mills / Category Architecture / Published: June-17-2021
Tucked away on a sprawling five-acre micro farm overlooking Phillip Island's Western Port Bay is one of Australia's most beautiful new luxury stays, Five Acres.
The land was purchased three years ago by Victorian couple, Katie and Rom Lamaro, who set about reimagining the rundown property into a design-led, adults-only accommodation experience offering awe-inspiring scenery combined with thoughtful design and a warm, intuitive approach to hospitality.
The three cabins, Barley, Clover and Rye, were designed by Mitch Bagley of Onsite Design in conjunction with the Lamaros, who used the same floorplan for each cabin but different colours and finishes.
Rom did the custom build with the help of his brother's building company Lamaro Homes and Belle Bright of Daylesford-based studio, Belle Bright Project, was responsible for the interior design and styling.
The Concrete Nation team were thrilled to create three Arc Basins and three of our much-loved concrete Valencia Baths in three different hues – Greenstone, Midnight and Cocoa – which were used outdoors for the dreamiest soak under the stars.
Concrete Nation caught up with Katie to chat about her design inspirations, their sustainability practices and her must-do travel tips tips for Concrete Nation's clients planning on visiting Phillip Island.
Images: Marnie Hawson.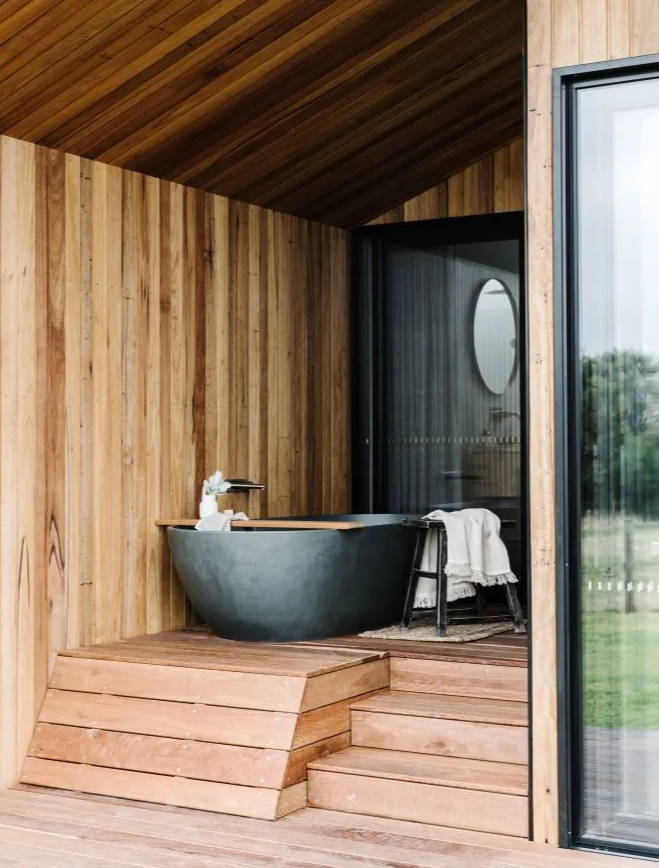 Congratulations on the launch of Five Acres. I think this luxury accommodation offering is really different to anything else in Australia. What do you think is your point of difference? What was the inspiration behind creating Five Acres? Who/what were your design inspirations?
Thank you so much, it has been pretty incredible journey and so exciting to have them up and running! The combination of rolling farmland and ocean views, a clever layout and use of space, and a very carefully crafted finish and attention to detail are what make the space feel luxurious and not like any other hotel room. Add to that, a few features that many would feel extravagant, such as wall to wall skylight, outdoor bath and an incredible view from the shower and these are the features we hope help set it apart from many other places. During the build, with Rom onsite and overseeing construction, we were lucky to have the opportunity to make changes as opportunities presented. Rom and I have always wanted to run accommodation so as soon as we secured the farm just over 3 years ago we set to work with planning. It was simply too beautiful not to share. We have both travelled and love a little luxury so the inspiration comes from our adventures and also what we look for in a kid free getaway so we have included everything on our own wish list!
These cabins are beautifully designed but I love all of the thoughtful touches you've added such as ceramics and custom-made furniture by your hubby Rom. What are your favourite design elements or features?
A few my personal favourite are the skylight over the shower which is pretty incredible anytime of day, the sunken built-in lounge which means you can see our beautiful Highland cows and the ocean from the super luxe timber bed, all the custom timber details Rom created have made the project feel really bespoke and you can really see how much care has gone into each cabin. The bath is our absolute hero and being outside on the deck means our guest experience the expansive view from the tub! It just feels so different to an indoor bath and gives the ultimate youthful rejuvenation.
What role does sustainability play in your business?
The cabins were definitely constructed with the environment in mind both during and after construction. We tried to minimize building material waste where possible, recycling wherever we could. The insulation throughout the cabins is streaks above the required 6 star energy rating and the window placement and eave design was well thought out to allow cross ventilation and to take advantage of the winter sun and shade in summer. We currently have a 10kw solar system with a view to expand and add in a battery storage system in the near future. We also have a huge amount of water catchment on the property (totaling almost 150,000litres), the gardens are planted out with natives (approximately 1200 plants and shrubs) to promote bee and bird life and the animals on the farm provide waste so we can create beautiful rich compost for the soil. All of the lighting throughout the cabins is LED and has a very low energy consumption. We even grow most of the fruit that goes into the jam for our guests.
Why did you decide to use architectural concrete/Concrete Nation at Five Acres?
I had been following your social platforms for a very long time and swooning over the beautiful colours and shapes of the basins and baths so as soon as there was a bath on the deck it was a no brainer. To be able to match in the basins (which are visible together) was a huge bonus. We have to say, we do love an outdoor bath! Are the CN Valencia Baths a hit with guests? Absolutely and we knew they would be! They are so generous in size, hold heat incredibly well (even outside) and feel beautiful to touch, both inside and out. We absolutely love the textured finish on the outside of the bath. The colours on offer were vast and even selecting three, we had other colours that we loved. Put simply, they are just stunning and exceeded our expectations!
Can you share other suppliers/brands you worked with?
Laminex Australia for our kitchen cabinets, Marz Design for wall lighting, Slabs by design for custom tables, Nectre for the fire places, Upholstery House for the custom couch, Armadillo Rugs, Major Minor + Sheet Society for linen, Haiku ceiling fans, Earp Brothers tiles, Christopher Scott Furniture (vanities) Valley Windows & Doors, Robert Gordon Pottery, Cisco and the sun pottery.
For CN clients visiting Phillip Island, can you share some local must-dos?
We encourage our guests to get out and explore the many beautiful nature and coastal walks on the island, Seal Rocks & whale watching cruises as well as the helicopter ride around the island is pretty incredible. For those who like a little more thrill, we have the grand-prix circuit which has a replica go-kart track, as well as jet-boat cruises around cape Woolamai. We also have some great cafés and restaurants that we list in our detailed compendium for our guests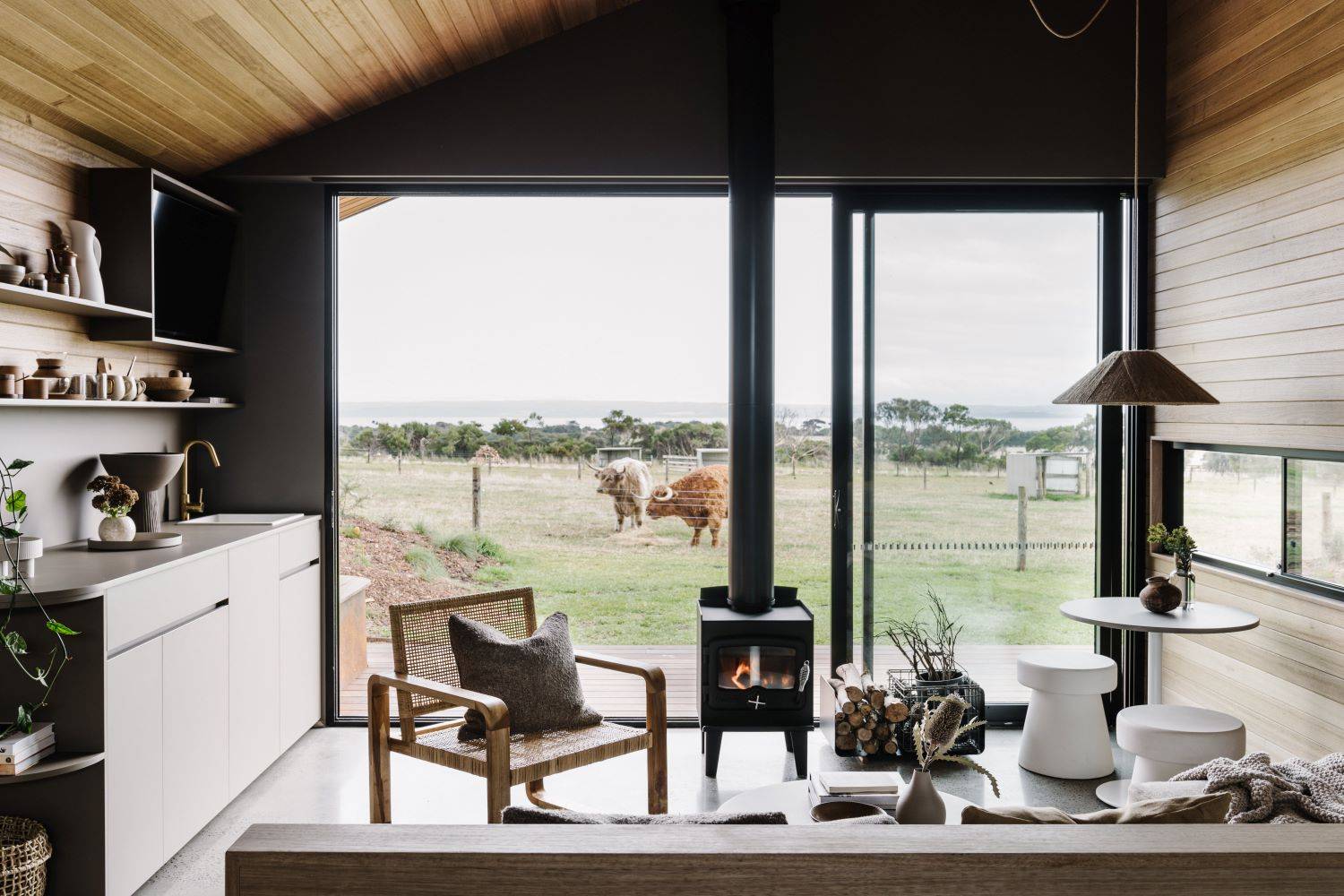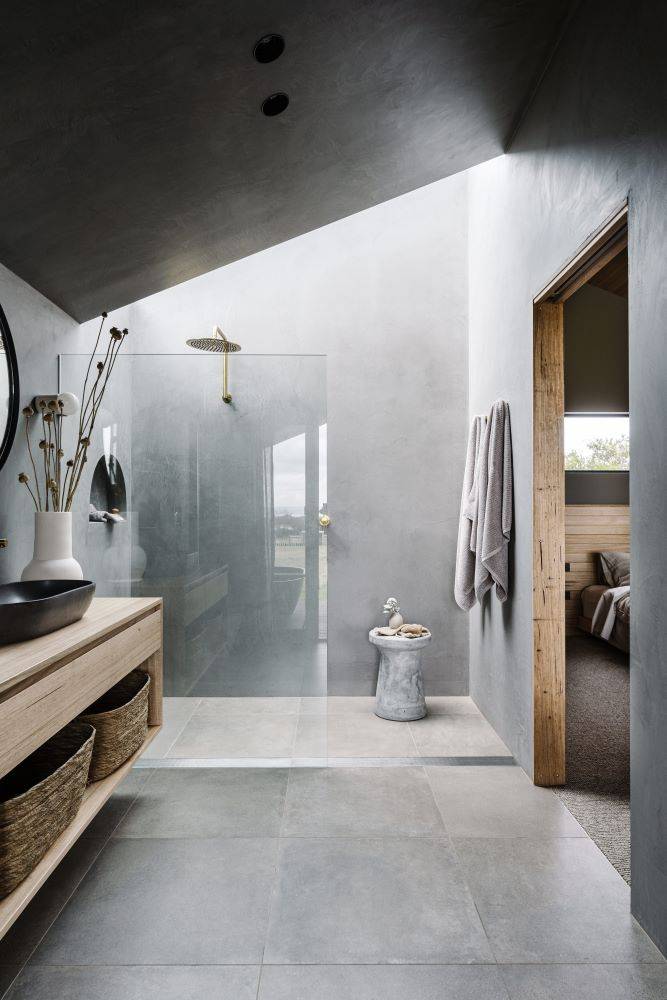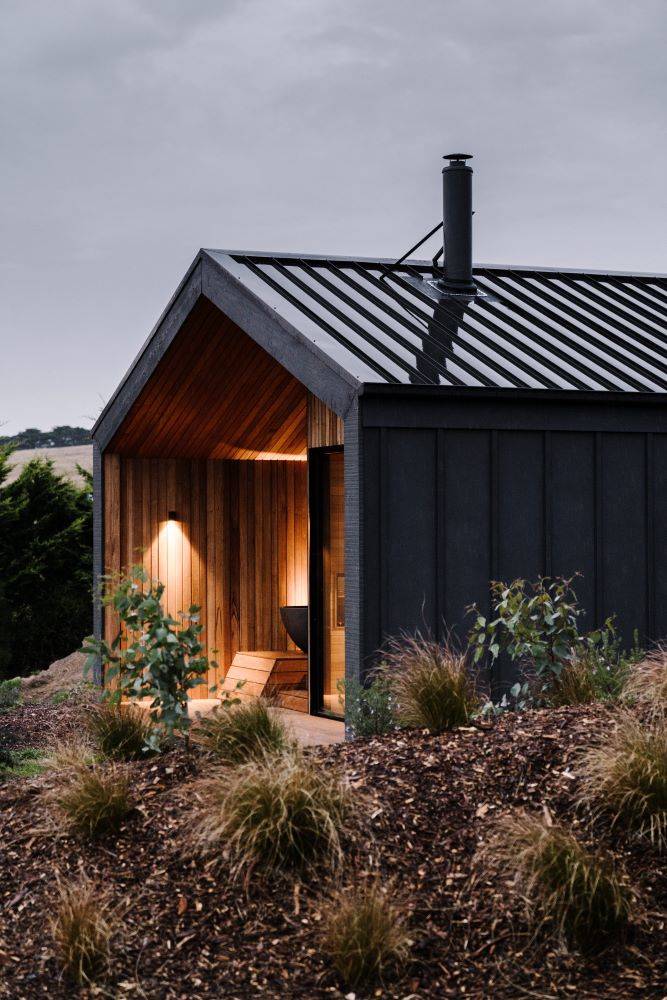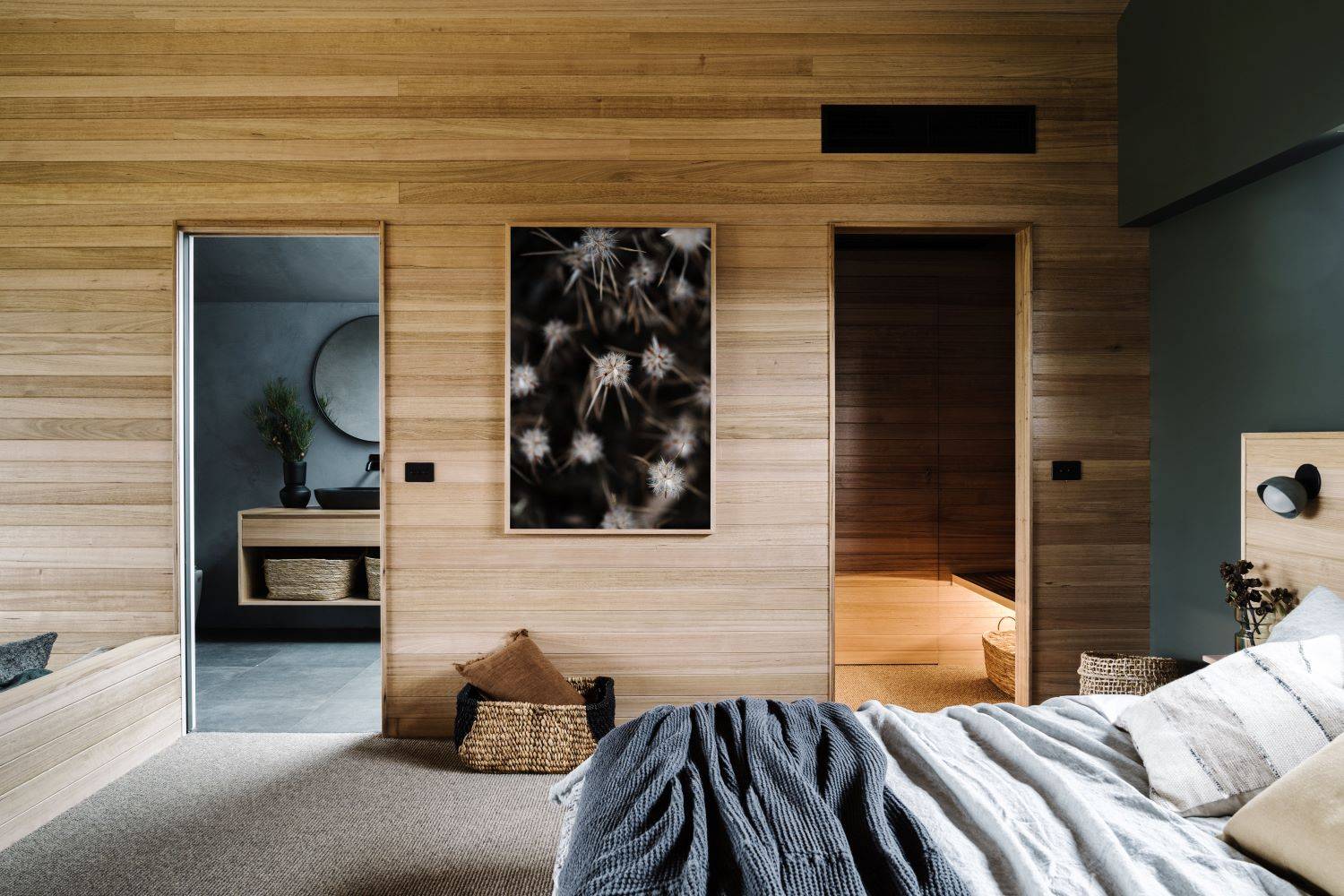 We are so very proud of this magical space we have created.We can't wait to share our little slice of paradise with the world.
— Katie Lamaro, Five Acres.
C|N Inspiring Spaces: Tigmi Trading HQ
Author Amy Mills / Category Architecture / Published: May-13-2021