INSIDE A STYLISH SEASIDE ABODE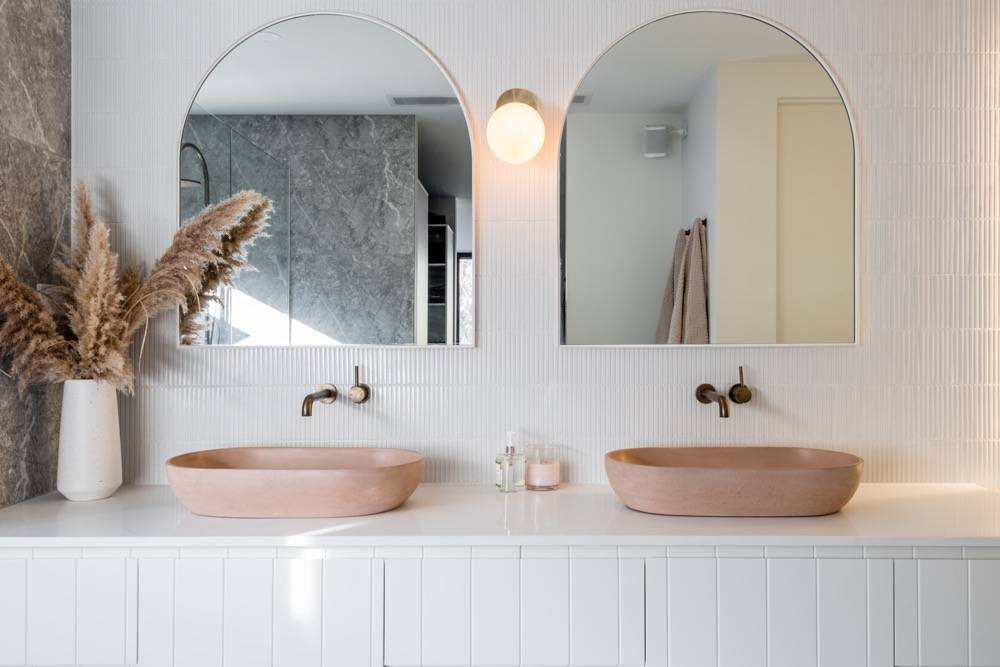 INSIDE A MODERN COASTAL ABODE
Author Amy Mills / Category Architecture / Published: Aug-06-2020
Tucked away 1km from the main beach at Ocean Grove on the southern coast of Victoria's beautiful Bellarine Peninsula sits Concrete Nation client and builder Sam Van Deuren's most personal project yet - his own family home.
Sam, who runs Vand Builders with his brother Ben, and his wife Jess recently finished work on their three-bedroom modern coastal home, which boasts stunning views of the Barwon River.
Flooded with natural light – through skylights and extensive windows- the Van Deuren's dream home is as functional as it is chic with soft curves in all of the right places, beautifully appointed bedrooms, a spacious alfresco space and an ensuite, which is like a spa-like sanctuary with a double shower with a glass wall that overlooks a private fernery.
We were thrilled to see bespoke Concrete Nation pieces sitting pretty in the home, including two of our handcrafted concrete Arc Basins in Nude and our freestanding concrete column basin, the Tropez Basin, in Snow White in the upstairs powder room.
"We wanted to produce a house that was equal points of functional and easy to live in and, of course, utilise the ever changing views that were on offer," he tells Concrete Nation. "Being on the coast and a stone's throw from the beach we wanted to create a modern coastal home. The inside is flooded with natural light making the home a welcoming, bright and peaceful place."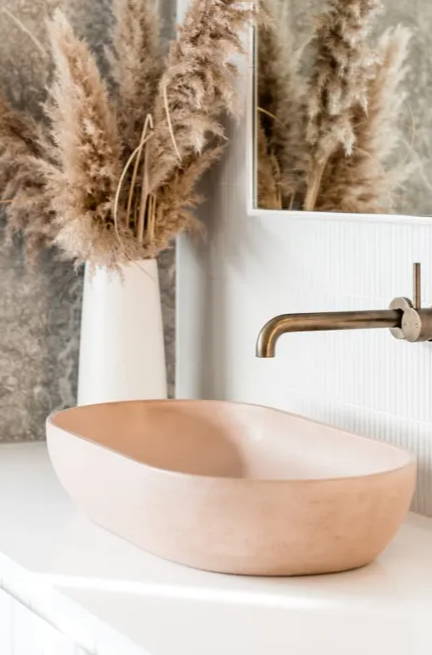 "The choice to use Concrete Nation's architectural concrete pieces in the home was an easy one as the designs and the colours worked perfectly for the style of the home, with the texture giving a uniqueness to the spaces," Sam tells us.
"When we started the design process, my wife did a lot of research into different products, styles and textures which we thought would complement our home.
"My wife was following Concrete Nation on Instagram and had always had her heart set on incorporating your concrete products in the home. They were the perfect fit for the style we were creating."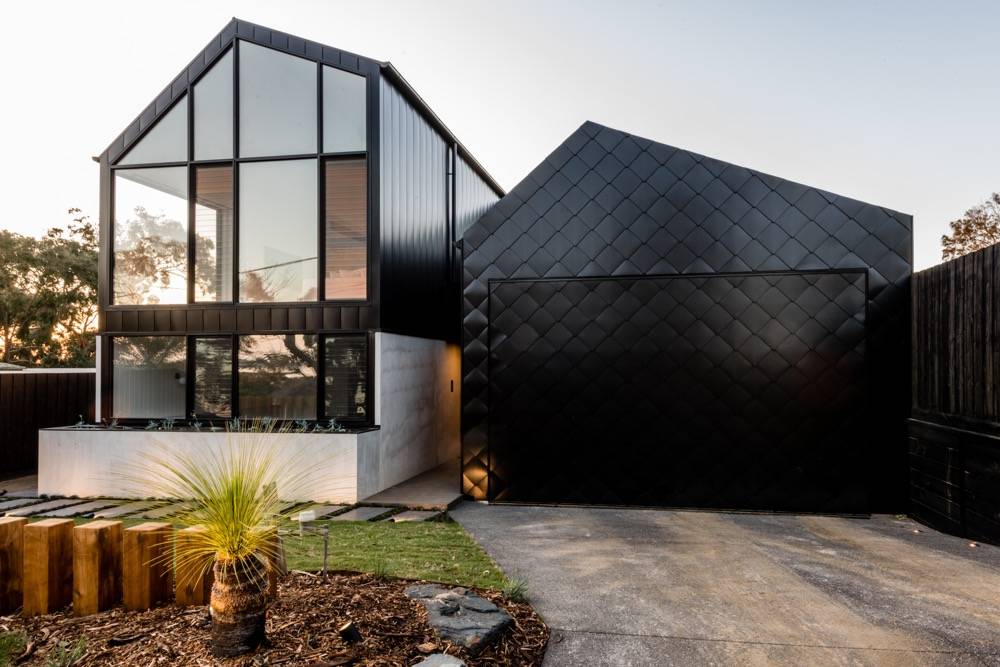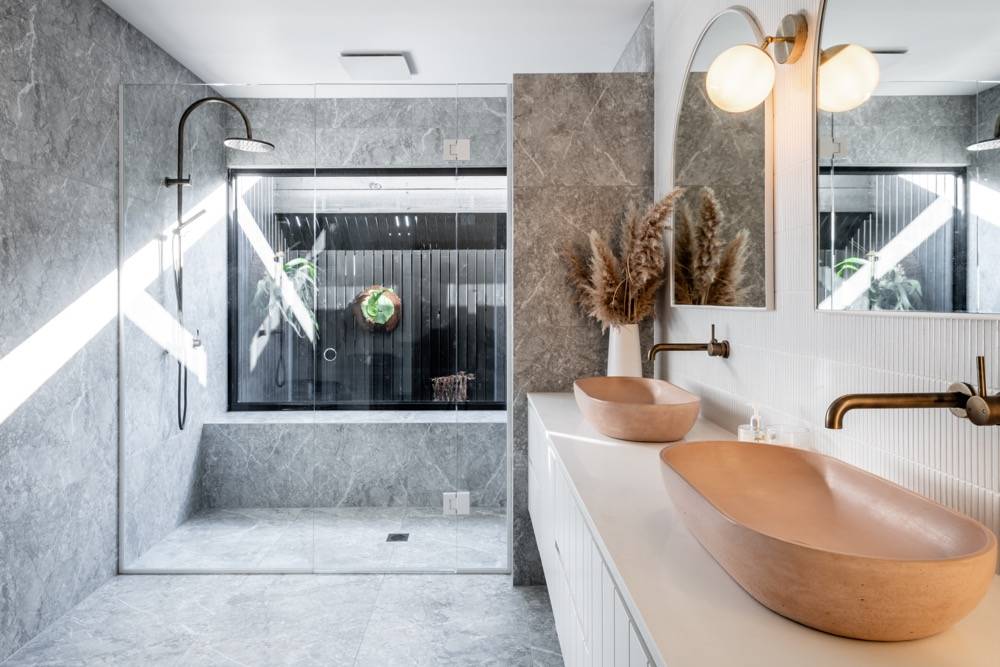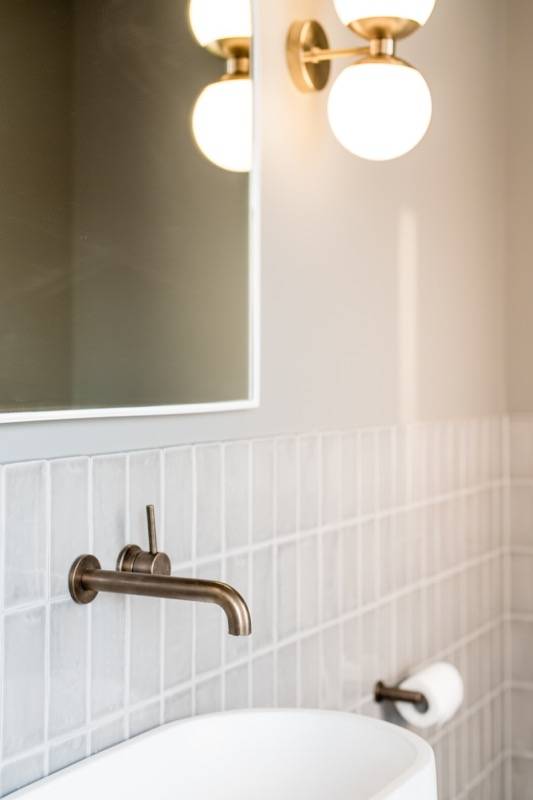 His love of architectural concrete aside, Sam's favourite part of the house is the alfresco space, which includes an entertaining area, pool, spa and lush landscaped gardens.
"Watching the kids play on the soft lawn outside whilst cooking a BBQ and watching the footy on the TV in the background is five-star in my books," he says.
"The master shower would also be my place of Zen in the home. I've never built a space for me to be able to switch off and enjoy the settings, so it is very nice to come home to after a long day."
Given the nature of Victorian winters can mean a lot of time spent keeping warm indoors, Sam says it was important to bring the outside in when he was creating his family home, which the couple share with their two young children.
"Whether it be with atriums in the middle of a house, the planter boxes or the fernery that runs down side of the house, we've made it feel as though you're outside," he says. "Experiencing a Victorian winter can sometimes feel like you're stuck inside a lot so to be able to bring the outdoor element in is a nice touch."
"My wife fell in love with the nude colour and length of Concrete Nation's Arc Basin. Not only did it suit our lengthy vanity, it gave it a sense of balance and sophistication."
— Sam Van Deuren, Vand Builders
"We also absolutely love the Tropez Basin as a feature in the upstairs powder room. It stands tall from a grey and white marble-look tile and is perfectly complemented with antique brass tapware, hook and soap dispenser.
"We have painted the powder room, including the roof, a soft grey finishing it off with a very cool Douglas and Bec wall sconce. I would say the Tropez Basin is my favourite Concrete Nation item in the house."
Thanks for the love, Sam, and congratulations on your new home.
Build: Vand Builders
Design: Guy Holman, Holman Designs
Interiors: Mel Wilson Interiors
Tiles and Tapware: Geelong Tile and Bathware.
Images: Nic Stephens Photography
Concrete Nation Loves: Austin Proper Hotel
Author Amy Mills / Category Architecture / Published: July-23-2020