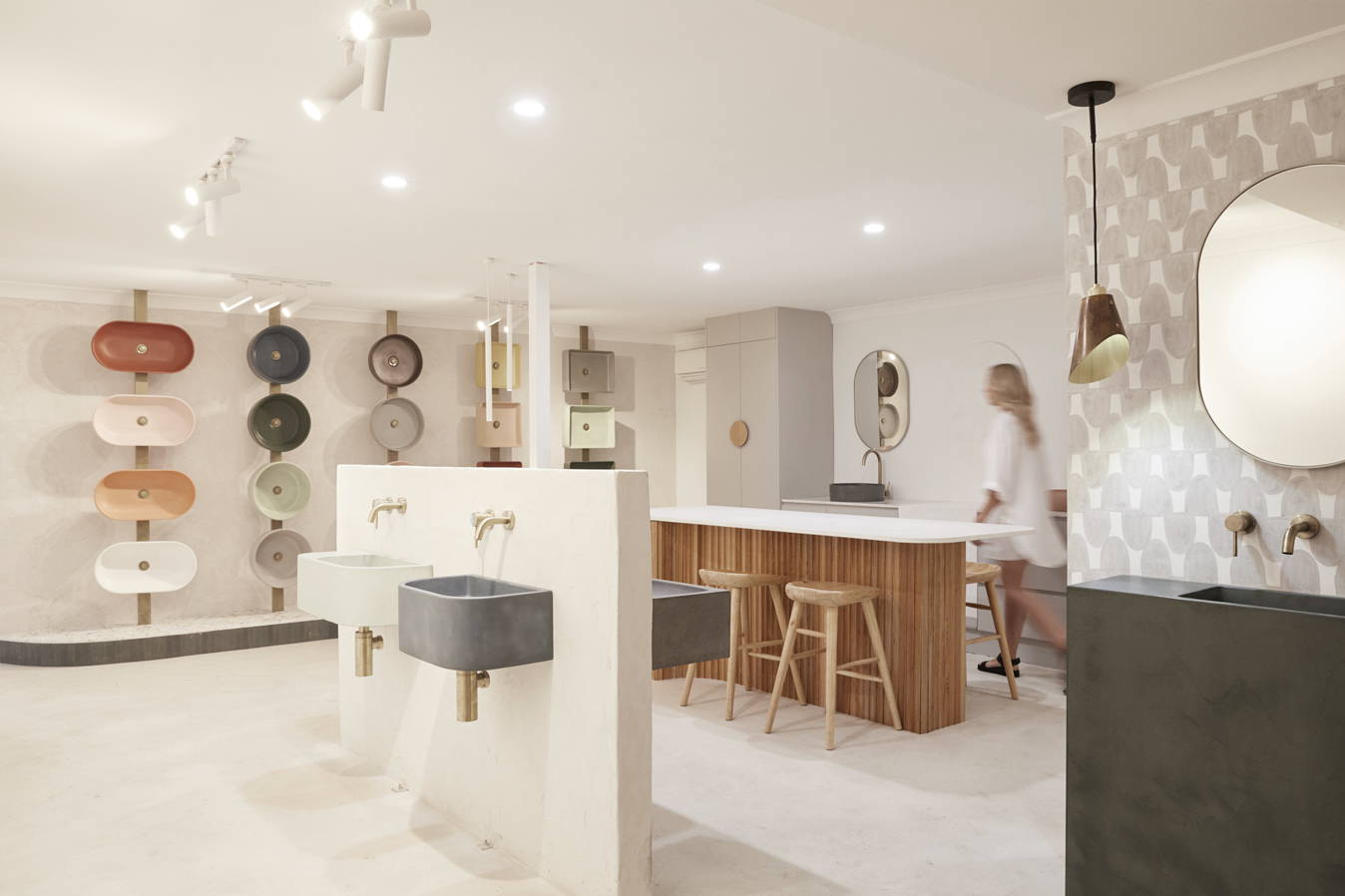 Author Amy Mills / Published: Feb-13-2020
We told you there had been a lot going on at Concrete Nation HQ recently and now we are finally ready to unveil our beautiful new showroom and offices.
Our founders Kate and Jason Lett have been working with the formidable Rose Grayson and Gina Dawson from interior design studio Studio Yugen to create a welcoming, beautiful space that showcased our handcrafted products, that was true to our brand and values as well as a collaborative place with working areas where architects and interior designers could come with their clients, chat with our in-house interior designer about their selections and create and collaborate.
We are absolutely thrilled with the final result and can't believe we get to work here each day.
We caught up with Gina and Rose to chat about the project, the design process and their favourite parts of the space.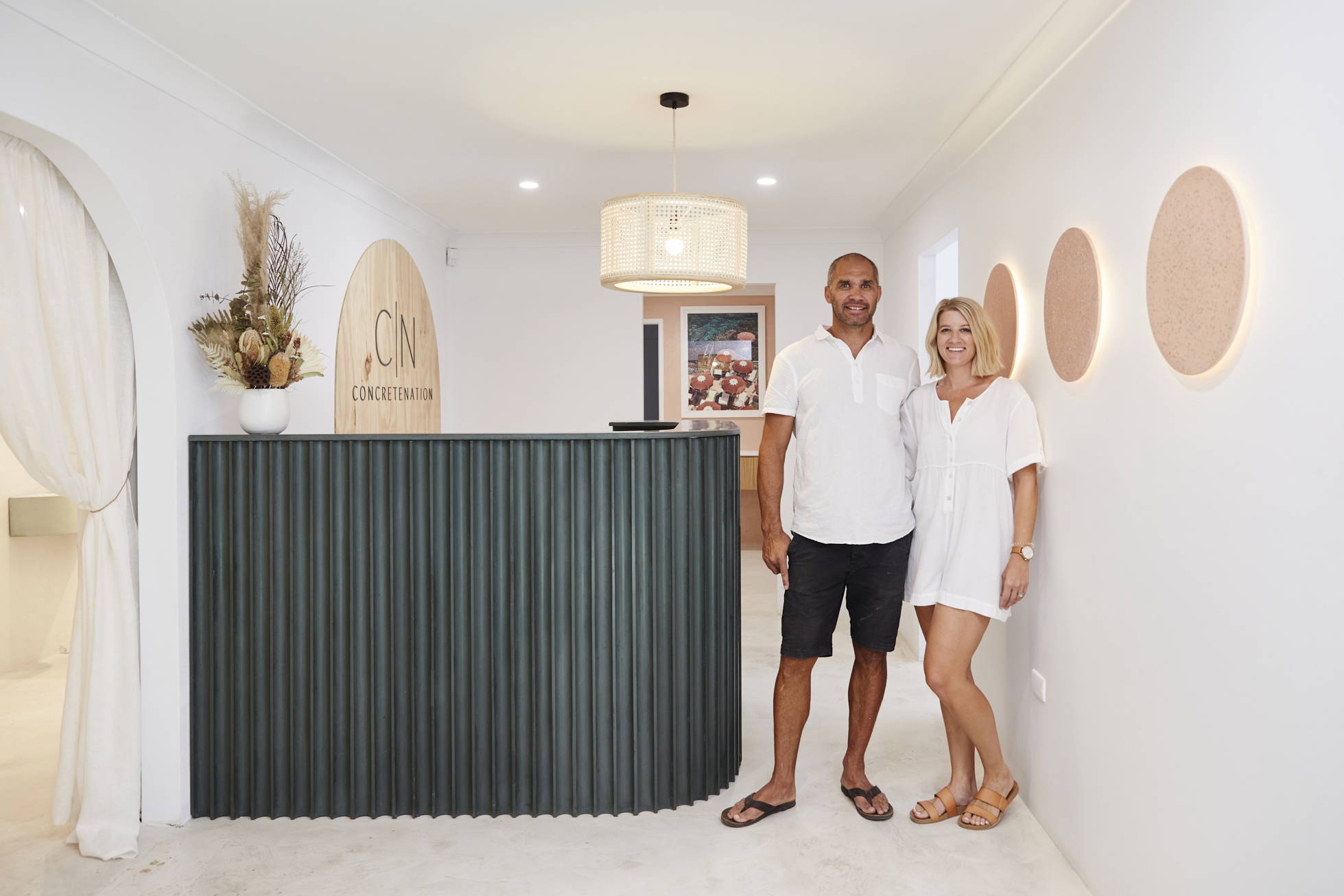 ---
YOU MUST BE SO HAPPY WITH THE FINISHED PRODUCT. TAKE US THROUGH THIS PROJECT AND THE PLANNING BEHIND IT?
When Concrete Nation appointed us to design their HQ, we were thrilled and instantly thought of ways we could showcase their brand through interior design.
Concrete Nation has established such a unique bold brand identity and it was key that this translated upon entry.
    The showroom is a breath of fresh air, showcasing Concrete Nation's products in an exclusive and interactive environment.
    The spatial planning enables the client to create their own experience whilst noticing CN's product narrative woven into all interior details.
    A key aspect to the overall showroom design was to emulate the products forms and compliment the concrete materials. Additional materials including sheer curtains, natural timber and subtle lighting softened the space and rendered the CN aesthetic effortlessly.
    We were also able to feature multiple local suppliers and their products to create an overall cohesive interesting space.
THE PALETTE IS VERY CALMING!
The showroom does act as a backdrop for the products to pop, however we did get creative with the scalloped bold green reception desk that was custom built by the CN team. Subtle, simple lighting and additional curves to the entrance, gives the space personality with the intent to always let the products speak for themselves.
I KNOW KATE AND JASON REALLY WANTED A SPACE IN WHICH DESIGNERS, ARCHITECTS AND CLIENTS COULD COME TOGETHER AND WORK ON THEIR PLANS/PROJECTS. HOW DID YOU ACHIEVE THIS?
As designers we know how frustrating it can be when you're in a showroom with a client and there isn't a space provided to work. We solved this problem by designing a central island which allows for anyone to pull up a stool and comfortably have a chat and discuss how Concrete Nation products can be used within their project.
DO YOU HAVE A FAVOURITE SPACE/PART OF THIS SHOWROOM?
Gina: I love the basin display wall - so simple, yet so effective!
Rose: The half-arched entry way into the showroom. It adds a sense of personality and fun.
WHAT OTHER SUPPLIERS DID YOU USE?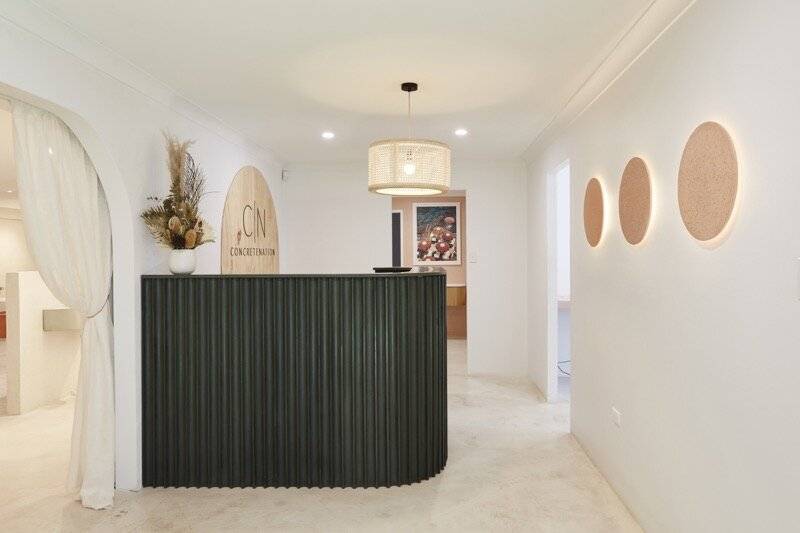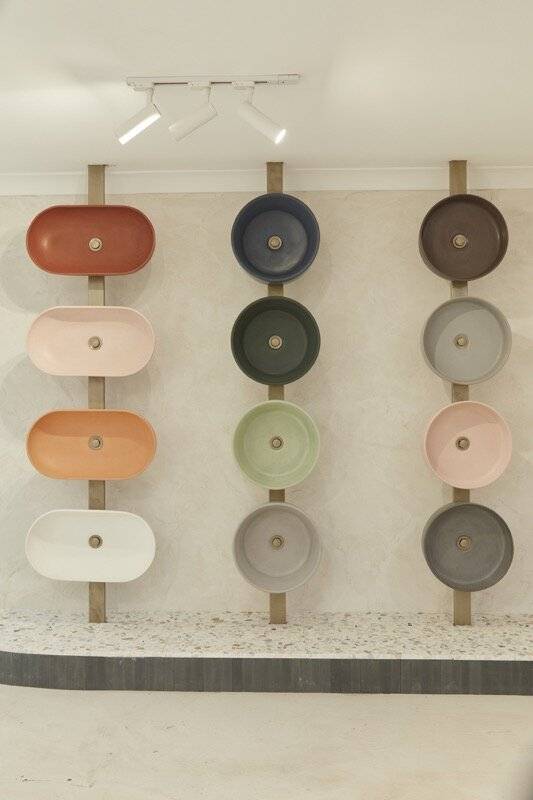 IMAGES: Jessie Prince
DESIGNER: Studio Yugen
INSIDE NOOSA'S NEW HOT SPOT
Author Amy Mills / Published: Feb-06-2020